2019 Skoda crossover previewed ahead of Geneva reveal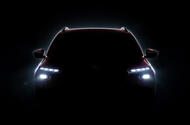 Opinion: why gas-powered cars make sense
There is also a reserve petrol tank, largely to ensure the powertrain will start in very cold weather, that gives the concept a total range of around 400 miles.
The system has already been tested in a converted Karoq. Martin Hrdlicka, Skoda's head of powertrains, said the decision to use the CNG hybrid system on the Vision X was, in part, to showcase a way to effectively bring four-wheel drive to smaller vehicles. "Four-wheel-drive machines make up 10% of Skoda sales. There's no 4WD in the entry-level A segment, so this can help us offer a car of that size with four-wheel drive.
"It would also suit a car the size of the Karoq. You lose a little boot space, but we put the bottles and the battery in the space provided for the spare wheel, so it's only a small reduction."
The Kamiq is unlikely to be offered with the compressed CNG powertrain, at least initially.
Skoda Vision X design
While officially a design study for an 'urban' compact crossover, the exterior of the Vision X gives heavy hints at what the production Kamiq will look like. The front of the car – in particular the grille (although on the Vision X it is made from a single piece of glass) and 'power dome' on the bonnet – echoes the Karoq and Kodiaq.
Autocar's top 10 compact crossovers
But there are some design features new to Skoda. The lights have been raised, with thin daytime running lights and indicators above the main headlights. At the rear, the Vision X features L-shaped tail-lights that line up with a similarly shaped bumper reflector.
Notably, the rear bootlid of the concept doesn't feature a Skoda logo, with the brand name spelt out instead. That has set a new style for the brand that has been followed by the Scala and Kamiq.
While based on the same platform as the T-Roc and Arona, at 4250mm the Vision X is longer than both (the T-Roc is 4234mm long, the Arona 4138mm). It is also lower than those cars at 1500mm high, while it sits between the 1780mm Arona and 1819 T-Roc at 1800mm wide. The Vision X also has a substantially longer wheelbase of 2645mm, compared with 2590mm in the T-Roc and 2566mm in the Arona. 
The interior of the Vision X features elements that can be seen in the interior of the Scala and Kamiq. The wide dashboard contains a large, centrally located touchscreen that sits above a small 'wing' designed for resting a hand on while using the screen.
There are also some design concepts that are unlikely to be seen on production models, including a 2+2 seating layout and the inclusion in the boot of long boards (and a drone) – Skoda's concept of a 'last-mile mobility' solution to aid urban commuters.
Read more
Car industry: EU CO2 reduction targets 'overly aggressive'
Opinion: why gas-powered cars make sense
Autocar's top 10 compact crossovers
Related Wallpaper of 2019 Skoda crossover previewed ahead of Geneva reveal
Video of2019 Skoda crossover previewed ahead of Geneva reveal
More Images from2019 Skoda crossover previewed ahead of Geneva reveal
You May Like Also Lexus Suv Price List