Hyundai i30 Fastback N 2019 review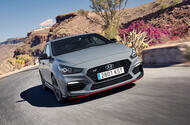 From behind the wheel, this is a pretty minor and incremental shift in course and agenda. The Fastback N's driving experience feels at least 95 per cent the same as that of its hatchback relative.
To access the car you duck your head past a slightly lower roofline than the i30 N hatchback has on your way into the driver's seat, where you'll find a welcome extra dose of colour around the cabin in front of you; there's a bit of red stitching here and red trim there, the likes of which the i30 N hatchback was crying out for.
The driving position might be a touch lower than that of the i30 N hatchback, but if it is, it can't be by much. The controls are well laid out, with the exception of pedals that are still too widely spaced to allow you to bridge the gap between brake and accelerator pedal with your right foot for heel-and-toe gearchanges.
Further rearwards, the Fastback body means you get slightly less second-row headroom than the hatchback would provide, so adults over six feet tall may struggle to get comfortable; but you also get a 55-litre boot space upgrade to 450 litres in all, which is presented under a liftback rear hatch that makes access easy.
On the move there's the same slightly over-complicated mix of driving modes to select from here (five of them in all, managed by two different buttons, the last being a 'custom' setting that allows you mix the calibration of each adaptable powertrain, suspension and steering system to your own liking). As a rule, each 'set menu' setting (Normal, Sport, N mode) delivers a marginally softer, calmer and more progressive feel than their equivalents did on the i30 N hatchback: which, for road driving at least, is good news. But often, depending on how and where you're using the i30 Fastback N, none of those settings feels like it ideally suits the car. Use the racier modes on the road and the steering can feel leaden, the ride flat-footed and needlessly aggressive, just as the hatchback often felt. Stick to 'normal' and the car's more compliant but less effusive and enticing.
Get the car configured just right, however, and the Fastback N's suspension and steering begin to work well – particularly so in 'custom' mode, though you have to wrestle with a discouraging amount of complexity in the process. This puts the car in a groove in which well-judged steering weight and perceptible feel come mixed with well-matched steering directness and chassis response. It's a groove in which outright lateral grip isn't sky-high and handling isn't as indulgently, delicately poised as it is in certain rivals, but the chassis definitely holds up its end of the bargain and makes the driving experience fast and involving.
Related Wallpaper of Hyundai i30 Fastback N 2019 review
Video ofHyundai i30 Fastback N 2019 review
More Pictures fromHyundai i30 Fastback N 2019 review
You May Like Also Ferrari Or Lamborghini